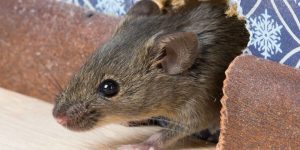 Mice are small, slender rodents with a pointed nose, and protruding black eyes. Mice live in or around homes, farms, and businesses. They are mostly nocturnal, staying active through out the night. Mice breed year round averaging 5 to 6 young per litter, with a gestation period of only 19 to 21 days. Mice are fully mature by 6 weeks old, and are sexually mature and ready to breed between 6 to 10 weeks old. They multiple quite quickly and are better trapped "sooner" rather than later.

Do not hesitate, Contact Always Nature's Way to have them removed professionally. We are a fully licensed mouse removal service for residential homes, businesses, and commercial industries. We offer professional animal removal services at an affordable rate.
Mice can often wreak havoc to homes and can leave a strong odor behind especially when untreated. Mice can burrow into your home, infesting in your food and cabinents leaving droppings throughout the house. Once inside they can build nests or cause issues with electrical while causing further damage to your home. We recommend you call for assistance immediately to avoid any additional damage.
Mice Removal Services Offered
Always Nature's Way is a fully qualified Animal Damage Control Team. Services include mice removal, mice prevention & proofing, mice control, odor removal, porch & siding repair, and much more. We do not exterminate the animals, but we will humanely trap and relocate your problem. We are trained and licensed through the Department of Natural Resources.
Whether it be mice under your porch, scurrying through your walls, or just being a nuisance, we can help you! We service Lake County, Illinois and the surrounding areas including Antioch, Gurnee, Deerfield, Libertyville, Lake Forest, Lake Bluff, Round Lake, Fox Lake, Highland Park, Grayslake, Vernon Hills, and many more!
Call a Professional Today!