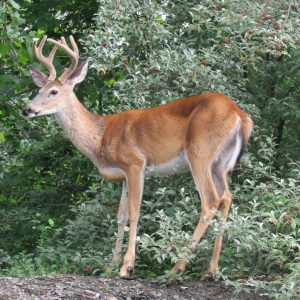 As most mammals, White tail deer feeding habits vary from place to place. Breeding begins in late September and continues through November. Deer are pleasant animals, and only become a nuisance when they begin to destroy private property. Destruction includes trees, shrubbery, and landscaping. Private homeowners, businesses, and government agencies contact us for help with deer control. Multiple methods are used to control or eliminate the problems caused by nuisance deer. Contact our office for further information.

Do not hesitate, Contact Always Nature's Way to have them removed professionally. We are a fully licensed deer removal service for residential homes, businesses, and commercial industries. We offer professional animal removal services at an affordable rate.
Deer Removal Services Offered
Always Nature's Way is a fully qualified Animal Damage Control Team. Services include deer removal, deer prevention & proofing, deer control, odor removal, fence & siding repair, and much more. We do not exterminate the animals, but we will humanely trap and relocate your problem. We are trained and licensed through the Department of Natural Resources. We service Lake County, Illinois and the surrounding areas including Antioch, Gurnee, Deerfield, Libertyville, Lake Forest, Lake Bluff, Round Lake, Snake Lake, Highland Park, Grayslake, Vernon Hills, and many more!
Call a Professional Today!