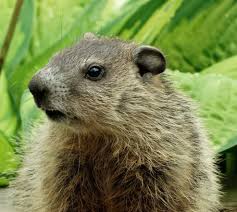 Groundhogs, also known as woodchucks or whistle-pigs, are daytime animals often seen basking in the sun for hours. Mounds of dirt and large holes are a good indication that these pesky but cute animals are the source of the problem. Commonly living under decks, porches, and sheds. Most people are not aware that this animal is also a member of the rodent family. Breeding begins in mid February shortly after they come out of hibernation. Gestation period of 31 to 33 days, birthing 2 to 9 young.

Once they reproduce they can be harder to repel, and you"ll have more groundhogs to control. Do not hesitate, Contact Always Nature's Way to have them removed professionally. We are a fully licensed groundhog removal service for residential homes, businesses, and commercial industries. We offer professional animal removal services at an affordable rate.
Groundhogs often wreak havoc to homes and be a real problem for your home gardens. Groundhogs can burrow under fences, homes, and grass causing structural damage. Once inside they can build nests while causing further damage to your home. We recommend you call for assistance immediately to avoid any additional damage.
Groudhog Removal Services Offered
Always Nature's Way is a fully qualified Animal Damage Control Team. Services include groundhog removal, groundhog prevention & proofing, groundhog control, odor removal, porch & siding repair, and much more. We do not exterminate the animals, but we will humanely trap and relocate your problem. We are trained and licensed through the Department of Natural Resources.
Whether it be groundhogs under your porch, digging through your yard, or just being a nuisance, we can help you! We service Lake County, Illinois and the surrounding areas including Antioch, Gurnee, Deerfield, Libertyville, Lake Forest, Lake Bluff, Round Lake, Fox Lake, Highland Park, Grayslake, Vernon Hills, and many more!
Call a Professional Today!