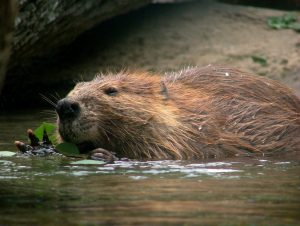 Beaver are monogamous animals, which means they only have one mate. They live in colonies consisting of two adults and the litter of that season. Breeding season is in February and March, with a gestation period of about 4 months. They average litter is between 2 to 4 kits. The young are forced out on their own after only 2 years, often moving nearby up or down stream. There they will begin their own colony, building more dams. Beaver become a nuisance once they have destroyed many trees on a property, or if the blocking of waterways causes it to overflow. Often times water damage may be caused to homes or businesses, forcing the owners to have the beaver removed.

Do not hesitate, Contact Always Nature's Way to have them removed professionally. We are a fully licensed beaver removal service for residential homes, businesses, and commercial industries. We offer professional animal removal services at an affordable rate.
Beaver Removal Services Offered
Always Nature's Way is a fully qualified Animal Damage Control Team. Services include beaver removal, beaver prevention & proofing, beaver control, odor removal, porch & siding repair, and much more. We do not exterminate the animals, but we will humanely trap and relocate your problem. We are trained and licensed through the Department of Natural Resources.
Whether it be a beaver flooding your yard, damaging trees in your area, or just being a nuisance, we can help you! We service Lake County, Illinois and the surrounding areas including Antioch, Gurnee, Deerfield, Libertyville, Lake Forest, Lake Bluff, Round Lake, Fox Lake, Highland Park, Grayslake, Vernon Hills, and many more!
Call a Professional Today!